The Pulse Mining ERP module for Operations provides companies with the tools needed to manage and align operational assets and activities with strategic direction
Comprising two core modules – Maintenance and Production – Operations is a fully comprehensive module providing the ability to plan, measure and manage the complete mining process.
Just one piece of the Pulse Mining ERP, Operations seamlessly integrates in real-time with all other Pulse Mining ERP modules to provide 'one version of the truth' throughout the entire business.
With the ability to integrate with any third-party system, minimal data input is required, minimizing the potential for errors or inaccuracies, and saving valuable time.
Key features and functions
Low cost per user, paid per month
Rapid implementation, user-friendly
Hosted in the cloud or on-site
Helpdesk and expert support services
Specifically developed for mining
Optimise production and maintenance


Maintenance Planning
Maintenance is comprised of four sub-modules:
Plant Register – the central register and configuration for the business's physical plant and equipment
Job Management – Facilities to manage the gathering, planning, scheduling, execution, recording history and analyse maintenance jobs and requests
Preventative Maintenance Scheduling – The mechanism to implement your asset management strategies to ensure operation functions compliantly and efficiently
Component Tracking – Provides the tools to detail manage the life and maintenance requirements of individual equipment sub components
Maintenance provides asset and work management features allowing you to:
Record, configure, track and manage plant and equipment
Easily and efficiently plan and track maintenance work
Utilise the benefits of the powerful preventative maintenance scheduling facility
Accurately and efficiently record and review work in high level of detail
Get the most from your data via a comprehensive user enquiry and a reporting mechanism that cover the full gambit from detailed data exports to executive level dashboards
–
Maintenance provides you with a suite of powerful, highly configurable operational tools which can record and analyse your maintenance history, enabling you to accurately forecast, budget and make strategic decisions based on your company data.
Production Data Entry
Production is an adaptable system comprised of three core components:
Open Cut Operations
Underground Mining
Processing
–
Highly configurable, each component can be tailored to suit your organisation's mining operations. Production statistics, delays, material movements, adjustments, stockpile information, budgets and forecasts and shift information – up-to-date information is always available.
Offering a comprehensive reporting component, Production can provide you with a multitude of 'out-of the-box' options for reporting and data analysis including Xcelsius Dashboards, Crystal Reports, Web Intelligence Documents and CSV data exports. If we don't have what you want we can work with you to meet your organizational requirements. Combine with Pulse Analytics for real-time display of production and maintenance statistics, including integrated data from any sources including machine and environmental sensors, apps, spreadsheets, etc. Example of Pulse Analytics BI dashboard: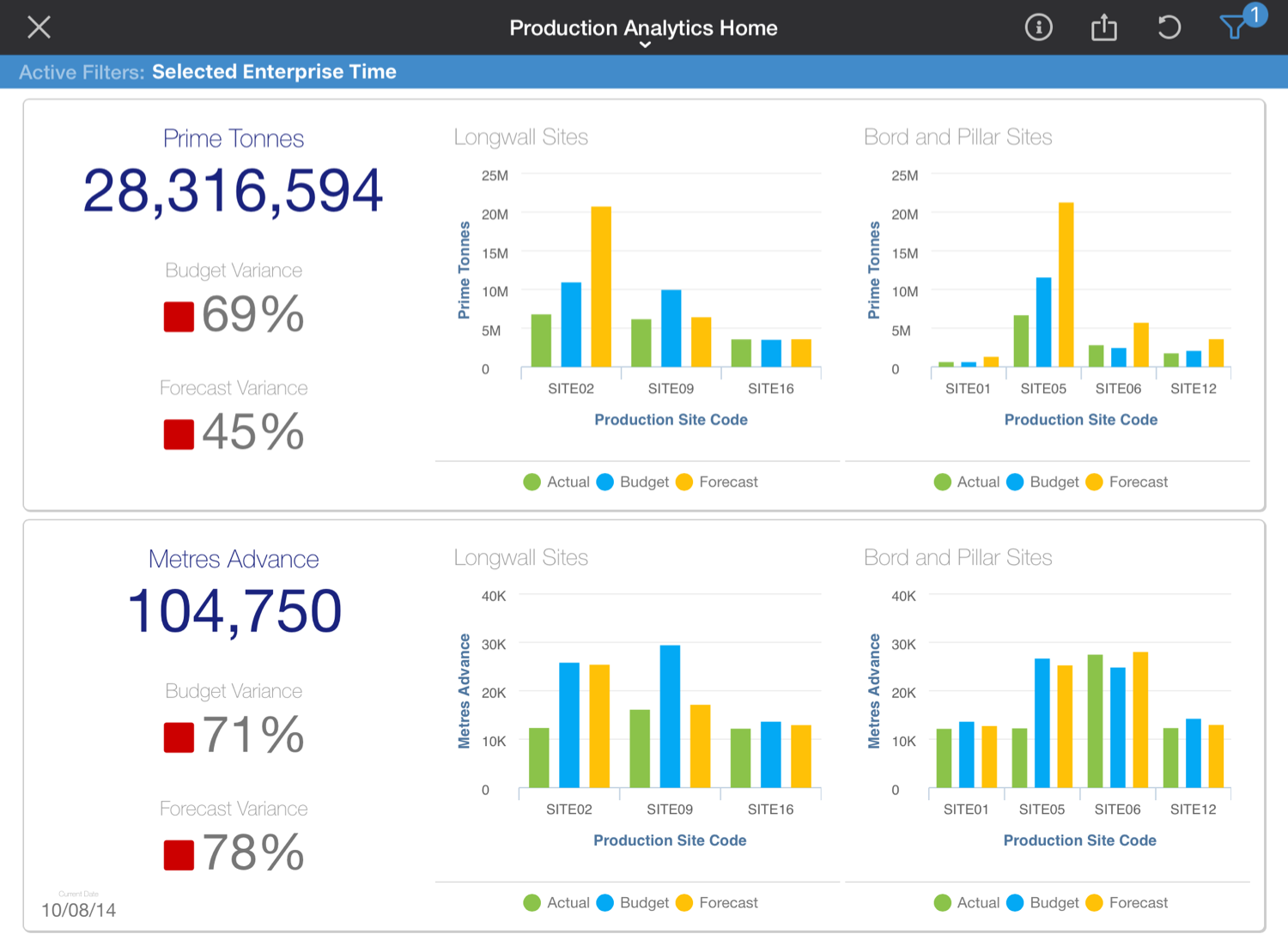 See how Pulse Analytics helped to transform efficiency and productivity at Centennial Coal through the integration of live machine data with ERP data to produce meaningful KPI dashboard visualizations.
Displayed on big TV screens in common areas throughout the mine site above-ground, the spirit of competition between underground mining teams continues to drive productivity gains from the frontline at the coal-face.
Used to optimize operations management, as well as all areas of the business, the implementation of Pulse Analytics can typically produce gains and savings in the order of millions of dollars per year, per site.