MBOS from Pulse promises extreme system optimization
New ventures choose Pulse as the fully digital mining business management system. Now, long-time Pulse users can get hands-on help with their digital transformation and business system optimization projects as a service called 'MBOS'.
What does MBOS mean and how does it help?
MBOS stands for 'mining business optimization service', with a focus on integrated business-system and business-process optimization. It was developed by Pulse in response to some long-standing customers needing hands-on assistance to deploy the latest Pulse tools available to them without distracting their key people or disrupting day-to-day workflow.
When new Pulse Mining ERP systems are being implemented, the mining company is keenly aware of the full suite of modules and digital tools available to them in the Pulse system. It's part of the implementation and training process to ensure that all parts of the system relevant to the business are being used effectively, and system knowledge is embedded sufficiently throughout the organization to minimize the need for users to look into help guides or call for support. These newer Pulse customers have made the decision to go 'fully digital' from the outset.
However, while some companies that have been using Pulse for ages are rolling out new tools from Pulse as soon as released, others are not yet taking full advantage of the next-generation business advancement tools already available and included within their Pulse system.
"It sounds counter-intuitive when we tell new customers that some long-standing customers are not using tools from the Pulse Digital Transformation suite – like the apps for mobility, data automation, B2B interconnectivity that are truly revolutionary," said Ash Bosworth, managing director and CEO of Pulse. "Same with our fully integrated Budgeting and Planning modules," he said, "there are some customers that could easily use them to great advantage but haven't yet."
Getting the most out of everything included in Pulse
Typically, ERP systems come at a base price in standard form but the price keeps going up as more add-ons and extensions are sold as necessary extras. This is the business model for old-school ERP systems that cannot meet the specific needs of mining without costly additions and customizations.
By contrast, this is not so with Pulse – one fixed monthly fee includes access to the entire mining-specific system and every new tool from Pulse, as soon as it's released. So why wouldn't a company use everything they already have in the Pulse system and embrace the latest offerings?
"It may seem hard to believe but in fact, many people are using the Pulse system day-to-day, as they've done for years, without realizing there are new modules and tools they can have just by switching them on. We do our best to keep the Pulse user community informed of new developments, but messages aren't always noticed," Ash Bosworth said. "There are thousands of Pulse users and while some read emails and take an active interest, the majority probably just take for granted the parts of the system they're using. We've even had a couple of situations where a customer has gone elsewhere to buy a tool for Planning or Budgeting because they didn't know these modules are already within their system, fully integrated, ready for activation."
Discovering new modules and tools with a FREE tour
One MBOS offering that's 100% FREE is the 1-hour session for existing Pulse users to explore new modules and tools within Pulse. You can take the free tour on-site or online whenever it's convenient.
Get a quick introduction to everything now included within the Pulse system. Make plans from there as to how your organization will make quantum leaps in efficiency by deploying the latest technology already available from Pulse.
Discuss how easily new modules and tools can be implemented within your existing Pulse user environment, and how keeping up-to-date with Pulse system releases means ongoing savings by continually making people's jobs easier.
Getting more from your Pulse system today can be done simply by turning 'on' something that's already there and quickly showing people how to use it.
Example: huge ROI from using MBOS in maintenance
Reducing costs in operations is largely focused on more effective asset management and achieving maximum efficiency in the maintenance area is essential for overall business optimization. Yet, the complexity of maintenance functions and processes makes this department one of the most difficult of all to get 'right'.
The Pulse MBOS team members have successfully completed mining maintenance department optimization projects to return huge savings for client companies. For example, one major operation in Australia achieved an 85% saving on inventory after MBOS optimized the systems and processes to automate data for many functions and liquidate non-essential parts.
Mobility is another game-changer in the workshop and stores with digital checklists enabling stocktakes and requisitioning on the go, and mechanics and technicians to easily check off tasks and procedures while they're on the job with no paperwork. Data entered on mobile devices is instantly populated throughout the system, so any next actions are progressed automatically.
"We achieved an 85% reduction in workshop inventory through help from Pulse experts in the deployment of inventory analytics for intelligent parts optimization as well as item scanning and checklist mobility for faster and more accurate stocktaking in our stores and out in the field."
[RIGHT] Ash Bosworth of Pulse presenting his talk 'Holistic Business Optimization v. The Silo Mentality' – about the internal struggles some companies have with shifting towards digital transformation – at the International Mining and Resources Conference (IMARC in Melbourne, Australia). Pulse-style deep collaboration and spirit of partnership can support companies to optimize business processes behind the day-to-day use of the Pulse system. Get a copy of the white paper from here.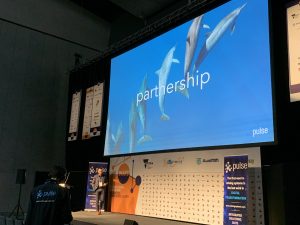 Book your obligation-free introduction to MBOS
Anyone using the Pulse system would already have access to Pulse Support by phone or email. It's easy to ask Pulse Support for an obligation-free introduction to MBOS.
Meet some of the experts on the MBOS team available to help your company with the optimization of business systems in areas like finance, production, asset management and maintenance, supply and procurement, HR and payroll, and across the whole business with organization-wide mobility, data automation, B2B interconnectivity, and business intelligence.