The mobile app allowing employees, managers, and the HR department to interact and engage on their own devices with the Workforce module and system-wide integration
STAFF RECORDS | LEAVE APPLICATIONS & APPROVALS | HR NOTIFICATIONS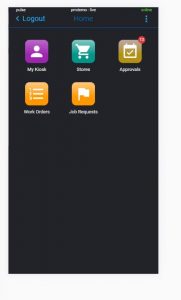 The HR Kiosk is a powerful mobile app that's available to users of the Pulse Workforce module. HR Kiosk is part of the groundbreaking, business-wide suite of Mobility solutions for Pulse Mining ERP.
Day-to-day HR interactions between employees, supervisors, and managers are made more efficient and streamlined by a high level of automation between users, departments, the app, and the system. HR Kiosk works on any common mobile device (phones, tablets, IoS, Android).
HR Kiosk is available now (pre-release) to users of Pulse Workforce and can be implemented with any new systems after official release at IMARC in October 2019.
HR Kiosk self-service example scenarios
"This app is brilliant – it's the HR breakthrough we were waiting for and now Pulse has delivered as promised."
– Payroll manager, Australian coal mining company, long-term users of the Pulse Workforce module
#1 Self-service change of details
Employee "Pat" moves house during their vacation
Pat accesses the HR Kiosk at home from their mobile device
Pat adds an updated residential address to their employee record
The new information is available system-wide
–
Just one example, the HR kiosk can provide more ways for employees and the HR department to interact, stay up-to-date, and save time by eliminating unnecessary emails, phone calls, and keystrokes
#2 Leave applications and approvals
Employee "Ali" wants to book a cruise for their next vacation
Ali submits a leave application via the HR Kiosk app
Ali's supervisor and the HR manager (designated approval authorities for Ali) receive auto-notification of Ali's request on their devices
Both authorities approve Ali's application, with Ali's supervisor giving approval on their own mobile device while in the mine
Ali receives notification of their leave application being approved
The approved status of Ali's impending leave is available system-wide
–
The processing of leave applications can be frustrating for employees and tedious for the managers and HR staff keeping track. Employees can see for themselves how much leave of each kind they have available. The HR Kiosk provides a high level of automation to the leave management process, and greater employee satisfaction, without compromising managerial control.
#3 Self-service access to pay records
Employee "Jan" wants to apply for a loan
Jan needs to provide the lender with three most recent payslips
Jan downloads their own payslips on mobile via the HR Kiosk
–
Employees can access their own payslips and employment documentation from any mobile device using the HR Kiosk app
#4 Self-service documentation
Employee "Sam" is sick and goes to visit the doctor
The doctor gives Sam a medical certificate for two days off
Sam takes a photograph of the certificate with their phone and uploads the image to the HR Kiosk
The HR manager receives notification of Sam's application for sick leave and the uploaded medical certificate
–
Not just medical certificates but other documentation relating to employees, such as training certificates, can be uploaded to the system via the HR Kiosk on any web-enabled mobile device. Also, next actions in the management of incidents are more easily managed and checked off through the HR Kiosk.