How Pulse Analytics democratized mining business intelligence
When an engineering student came to Pulse with questions to help with their research project, the resulting response, subsequently published as an edited article, helped some mining companies to liberate their business intelligence from BI providers with vested interests. It explains the evolution of BI and how Pulse Analytics facilitates BI democratization.
This article was written in 2021 by the Pulse head of communications and relationships who was involved in the marketing of OEM apps for mining and BI platforms for ERP systems before getting a preview of Pulse Analytics at a technology conference in 2017 and joining Pulse in early 2018.
How OEMs used sensors and apps to capitalize on customers
It could be said that the revolutionary wave of the IIoT (industrial internet-of-things) through the mining industry began with some OEMs (original equipment manufacturers) seeing the potential to capitalize on their customers by making 'dumb' machinery 'smarter'.
Let's take the example of a manufacturer selling heavy machinery to the global mining industry. Until relatively recently, machinery was monitored by analog instruments and gauges, and later by LED readouts on the machinery itself or hard-wired panels somewhere in the plant. Think of the cartoon character Homer Simpson at his 20th-century nuclear powerplant workstation as a graphic reminder of all the gauges with needles and illuminated numbers that needed to be 'watched' by people at industrial sites in those days.
Eventually, as computer chips became microchips and wireless connectivity became more advanced, OEMs continued leveraging these developments to sell more by adding value for their customers. By putting 'smart' sensors in the right places on parts and equipment, the manufacturer could capture data from the machinery to indicate its performance status through the relayed measurement of factors like temperature, rate of vibration, speed of oscillation, depth of penetration, etc. And then, to display all this data more sensibly for customers, OEMs started developing their own apps for desktop and mobile devices.
By 2017, not only were manufacturers of machinery producing apps for their customers to monitor their own-brand equipment, but third-party manufacturers of parts and consumables for OEM gear started putting sensors on their own products with apps to monitor performance and trigger alerts whenever replacements needed to be ordered (from them, not the OEMs).
While the advent of machinery sensors monitored by apps was met with enthusiasm by the mining industry, and the OEMs/third-parties that were offering machinery sensors and apps gained a competitive edge, it was soon being reported that the average mining operation was running at least 300 apps. The idea of monitoring 300 apps brought back visions of Homer Simpson but with hundreds of apps, instead of gauges, to be 'watched'. It was different from how things were previously but not much better due to persistent impracticalities and competing interests.
How OEMs and ERPs tightened their grip with BI dashboards
As the OEMs were busy releasing apps to their customers (and fending off third-party after-market sensors with apps offered for OEM gear), the developers of the world's major ERP systems were developing analytics overlays for their business products to subvert the tendency of their customers to reach for third-party offerings when something they wanted wasn't available from their principal providers. The race was on but the line-markings were getting blurry. The main aim of ERP providers is obviously to defend against competitive ERPs.
For any ERP provider to include OEM data in some form of overall business intelligence solution, it would take cooperation from the OEM to make data available. Whatever goes on when behemoth companies are dealing with other behemoths, this cooperation wasn't always forthcoming, and ERP vendors were not generally as competent in analytics development as they'd been in software development.
Few of the early BI solutions that were being developed by major software companies – and showing promise for heavy industry from about 2016 onwards – survived to become fully functional and commercialized. Some of the OEMs with customers in the mining industry continued to dabble in BI dashboard development with varying degrees of success trying to meet real-world business needs.
What OEMs and ERP software providers have in common with their drive to develop analytics dashboards for customers is their self-interest, however. The whole idea is to keep their customers more 'sticky' by tying them into their own-brand BI dashboards. It's good business for the OEMs and ERP software providers to bind their customers into analytics dashboards but not great for mining companies to have their business intelligence inexorably locked-in with one dominant supplier over another.
Why in-house BI dashboard developments kept coming unstuck
Many larger companies employ their own IT and business system development specialists in-house or as external consultants. With a number of raw BI platforms promoted as suitable for configuration by savvy end-users, it was inevitable that companies and individuals would start exploring the development of analytics dashboards to suit their situational needs specifically – even while Gartner, with its global weight on corporate thought-leadership, continues to advise companies that most business analytics projects will fail.
In almost every instance, despite the capabilities of people involved and the companies' appetite for investment, most of these in-house BI projects became unstuck. It's typical for these types of projects to get anywhere up to 80% of where they need to go before hitting the wall. This is usually at the point when everyone realizes the amount of work and investment needed to overcome the hurdles in the final stages, which are much more complex than those encountered in the early stages. In most cases, it becomes less than prudent for the mining company to complete the development of its own analytics dashboards no matter how far its in-house efforts may have come.
How Pulse Analytics democratized mining business intelligence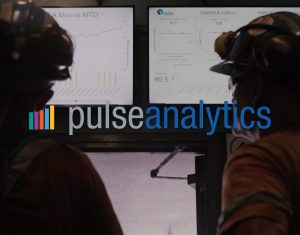 Pulse was arguably the first company in the world to develop real-time analytics dashboards for mining production in collaboration with real-world mining managers. By 2018, when the case study video of the Pulse Analytics deployment at Centennial's Springvale site in Australia was produced, the phenomenal gains in productivity through the integration of OEM data with ERP data had been truly field-proven.
Pulse Analytics was developed by Pulse, the developer of Pulse Mining ERP. However, the intention of Pulse was never to coerce mining companies into using the Pulse system nor any brand of anything via Pulse Analytics. Instead, Pulse took the 'high road'.
To help all mining companies, Pulse Analytics was developed as the totally agnostic BI dashboard suite for using business-wide with data integrated from any ERP system, software, sensors, apps, even spreadsheets. With more than 24 analytics dashboards already developed for mining needs, getting real-time business intelligence to empower managers is essentially plug-and-play, with no lock-in contracts, and low monthly subscriptions to cost-effectively cover individual users, team-based users, and high-level TV displays in common areas.
This is why Pulse Analytics is distinguished as the 'master' business intelligence system for mining, independent of offerings by vested interests. Pulse Analytics brings the whole-of-business picture together for a consolidated view by upper management, and presents multiple sites individually as well as comprehensively.
Today, Pulse Analytics is used across mining businesses with complete universality of data-source integration. It took Pulse Analytics to ultimately democratize business intelligence for mining and now also other industry sectors like high-volume product manufacturing and statistics-based financial services.
One mining company wanting to use Pulse Analytics was concerned that the manufacturer of some of their equipment could refuse to make their data available because the manufacturer was peddling its own analytics solution. As if any manufacturer could get away with blocking the data collected from sensors on equipment their customer had purchased from them? Surely, it would be commercially untenable for any vendor to railroad customers in this way. Pulse Analytics is absolutely agnostic, so it doesn't matter what brand of machinery or software the mining company is using – the company owns its own data, right? Data from any ERP system, software, sensors, apps, even spreadsheets – can be seamlessly integrated within Pulse Analytics.