Beyond OCR and document parsing software comes the next generation in business process automation…

DocRocket automatically extracts details from email attachments and accurately enters the data into any business system
INTELLIGENT | ACCURATE | TIME-SAVING
End tedious, error-prone keystroke data entry
Works with supplier invoices, any documents
Automatically detects details on documents
Human checking option to retain control
Enter data automatically or with one click
Punch to any system destination (agnostic)
Easy to get started, low-cost, simple to use
With DocRocket the entire process of entering data from documents (punching) can be fully automated, or set for human validation before proceeding to the next automatic step. DocRocket comprises three components:
Paymate – automatically takes invoices from inbox/mailbox and saves PDF for processing
DocParsing – automatically takes relevant details from PDFs and populates fields in the ERP system for human validation and one-click entry
AutoInvoice – building on the first two steps, reads invoice details and if correct, automatically processes ready for payment
DocRocket can save time in many areas of the business. The function of AP within the finance team, for example,  is traditionally associated with tedious data entry from supplier/vendor invoices and other documents. Manual data entry is not only time-wasting and fatigue-inducing but inherently prone to keystroke error.
Advances in technology allowed Pulse to develop DocRocket as the document-to-data conversion tool so clever and powerful that it's been made available to all businesses industry-wide as the universal document parsing solution. DocRocket is the major step towards achieving business automation in finance and other business departments. It's easy to get started, and simple to use.
Most document-to-data conversion tools go halfway towards transforming the information on static documents into actionable data. Only DocRocket preloads the extracted data ready for checking and accurate punching into the Pulse Mining ERP or any other business system, exactly where it should go, allocated correctly, with just one click – or with the option of complete end-to-end data entry automation.
TECHNICAL FLOWCHART
This example shows how DocRocket can work for supplier/vendor invoices but it can be used anywhere in the business to reduce data entry. DocRocket can 'read' any document format and even most images of documents such as receipts.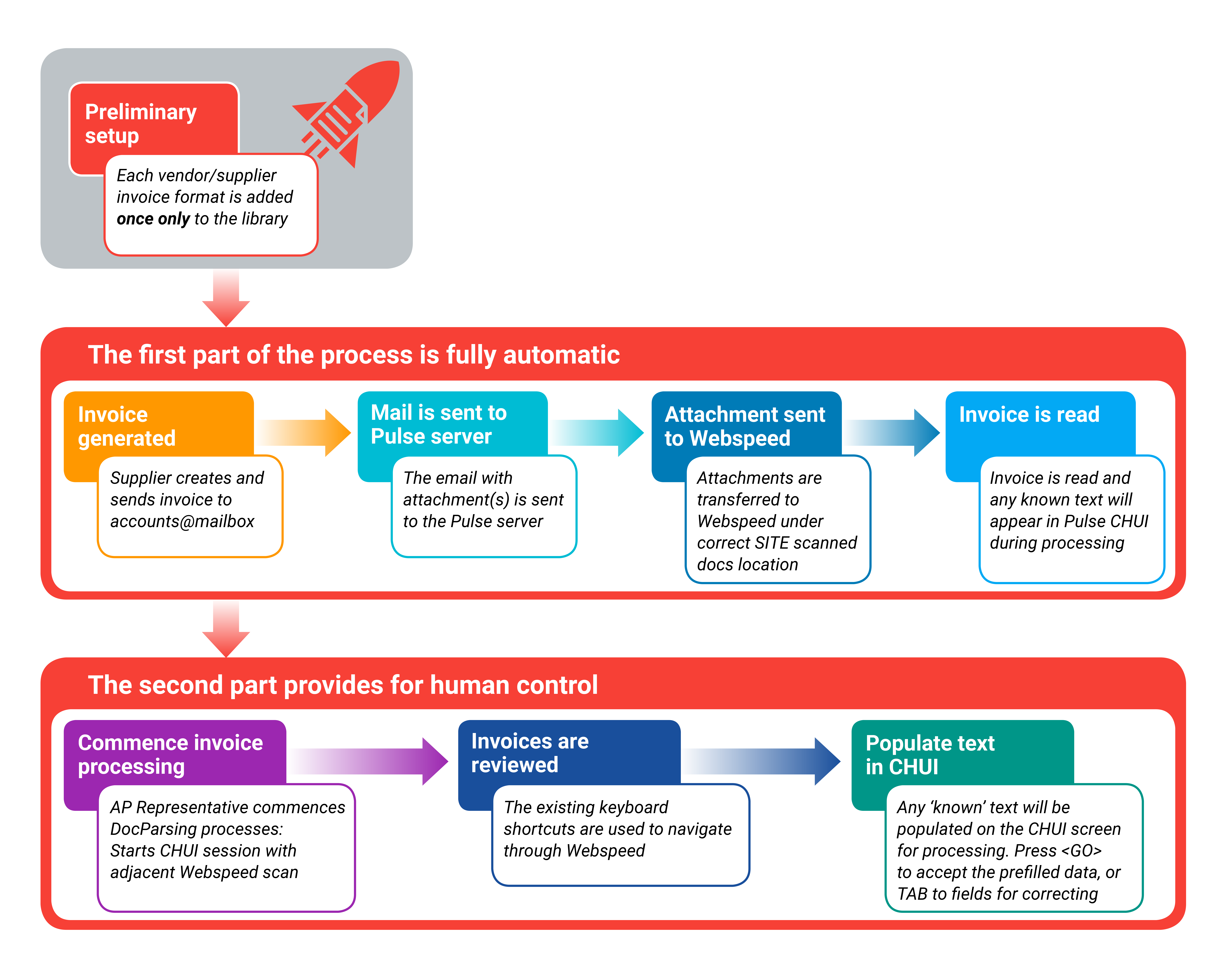 Key features and functions
Once-only formatting setup
Set up each invoice/document format once only for all similar documents to be recognized and 'read' automatically in future
–
Each style/format of a document that's received (such as the invoices received from a certain supplier) needs once-only setup for DocRocket. Thereafter, relevant information is automatically extracted from documents received. Extracted data is automatically loaded for checking/editing and one-click entry.
Business-as-usual for suppliers
Suppliers and vendors continue to email invoices and other documents to accounts@ or the usual inbound mailbox address
DocRocket detects the relevant inbound documents and automatically forwards to the 'reader' for processing to commence
–
Suppliers and vendors don't need to know you're using DocRocket to automate the drudgery and inaccuracy of manual data entry. They continue to email your accounts department as usual and DocRocket does the rest for you!
Documents 'read'; text is pre-loaded
Documents are 'read' and the identified text is pre-loaded into the CHUI (Character-Based User Interface) for the AP representative to commence processing
–
CHUI sessions are conveniently conducted with an adjacent DocRocket screen. Standard keyboard shortcuts are used to navigate the DocRocket process.
Data pre-filled for one-click entry
Identified text is clearly displayed on the CHUI screen
Details can be checked/validated/edited before final entry
Accept and enter the pre-filled data simply by pressing 'GO'
–
Data is conveniently pre-filled saving tedious keystrokes yet the AP representative still retains full control for checking accuracy and validity. Tab through fields to edit the pre-filled data if needed and when ready, punch it into the system, wherever it should go, with just one click.

The intelligent OCR document-to-data conversion solution that works with any business system