Do you know how broad the Pulse Mining product range really is? Or that you can save money by using our many inbuilt features? This means that you don't need to pay for 3rd party products to extend your ERP's functionality to fit your requirements.
Due to its coverage, affordability and rapid implementation, the Pulse Mining ERP has been accepted by many discerning mining companies (including Glencore, Rio Tinto, Vale and Centennial Coal) as a viable and effective alternative to the much more expensive Tier 1 ERP solutions such as SAP, Microsoft Dynamics and Oracle (JD Edwards).
The Pulse Mining ERP also offers mining companies transitioning from an eclectic business application environment (comprised of separate accounting software packages, spreadsheets, payroll, HR solutions, etc.), a unique opportunity to integrate all business critical functionality into a single ERP suite through our 'easy entry' pricing model which features low up-front capital cost and a very competitive user-based subscription model, with discounts applied for scaled usage.
What makes the Pulse Mining ERP different?
Complete, integrated system – no need to purchase extra modules
Financial work-flows tailored to the needs of the mining sector
Integrated Production Recording & Plant Maintenance modules
Fully integrated Health & Safety, Training & Development, and Skills Competency sub-modules
Fully automated Payroll – including Bonus, Allowance & Considerations
Employee Self-Service HR Kiosk – integrated to Payroll
Fully integrated Stock issue/receipt Barcode Scanning
Mining specific Production Recording fully integrated with ERP
Ability to record and report against production budgets & forecast
Automatically track stockpile transactions and balances
Fully integrated Plant Maintenance module tailored to Mining
Marketing & Logistics – track coal from mine to port – suits all mining methods – covers complex contract quality requirements.
Pulse Mining Systems ERP Solutions Map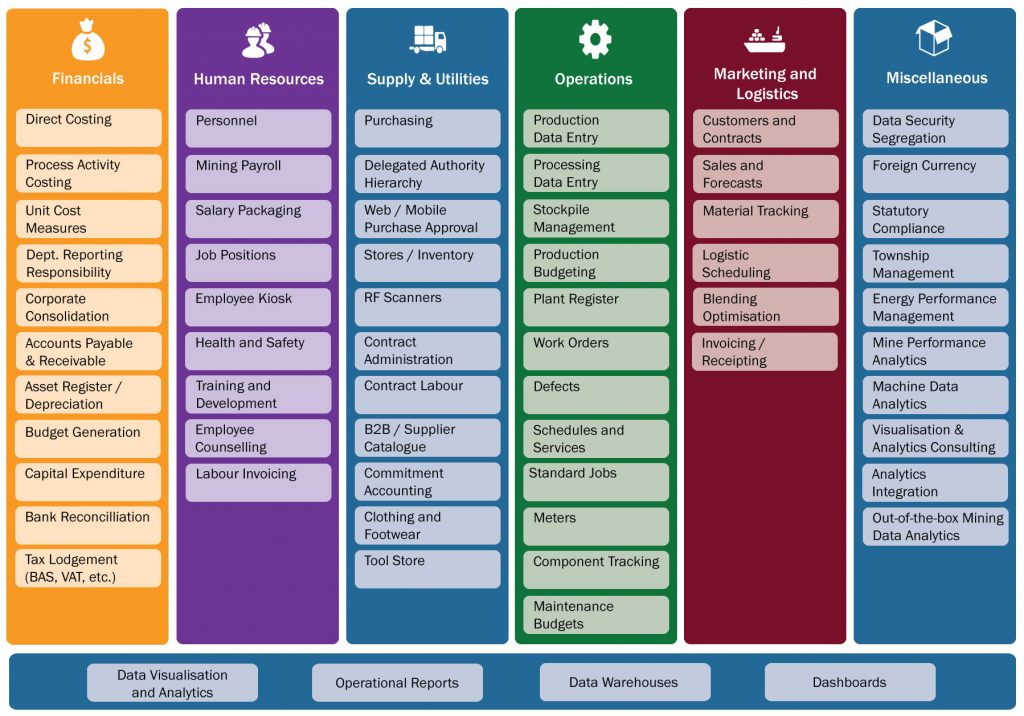 Download the Complete Coverage brochure.
Download the Pulse Mining Systems ERP brochure.